Interstellar Orphan
v.2 for Improve My Game Jam #8
---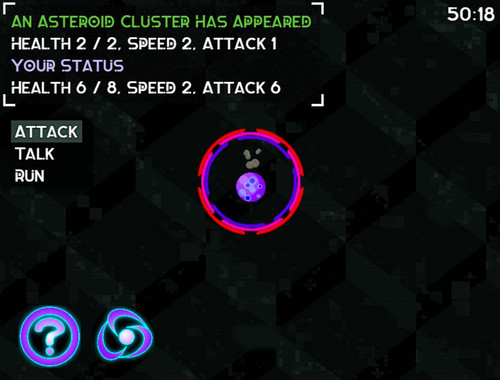 Interstellar Orphan's my personal favorite of the games we've released, so of course, when we joined Improve My Game Jam #8, I knew we'd be dedicating more time to Akuji.

Chase designed four more spacefaring cat sprites for this update, including:
Greg in a heart ship
Buttercup on a magic carpet
Lahea in a weaponized spaceship
Phoebe in an Area 51 spaceship
After I incorporated those paw-some cats (two per map), I worked on a fan request for a help menu that lists available controls.
The battle system's been modified so it doesn't hide access to that help button, as well as preventing overlays when the player unlocks Gravity Well.
Gravity Well's button was also adjusted to accommodate the new help menu.
The ending sequences were updated to use photos instead of videos, since the video player isn't reliable in the browser. But if you'd like to see the video-based endings, try the downloadable version of the game...because the last upgrade we made for our favorite browser game, is including Windows and MacOSX versions. :)
Files
Interstellar.zip
Play in browser
Mar 22, 2020
Interstellar_PC.zip
88 MB
Mar 22, 2020
Interstellar_MacOSX.zip
319 MB
Mar 22, 2020